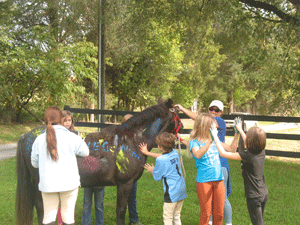 Stacey Collins
Stacey Collins has been teaching and training horses for over 15 years. She has a B.S. in PreVet/Animal Science with a concentration in equine studies from the University of Massachusetts Amherst. Stacey is also currently working on attaining her US Eventing Association Instructor Certification. Stacey has worked with Mark Russell and Denny Emmerson to help keep her skills sharp and to continue her education as well.
Stacey was the head riding instructor of a large riding school at Harmony Horse Stables, LLC in Littleton, MA for 8.5 years. While there Stacey helped many students develop their horsemanship and riding skills, coached students on the Show Team as well as the Event Team (many of whom have successfully competed at Area I Championships and the American Eventing Championships). During her years there, Stacey helped grow the riding program to 140 lessons per week, 18 boarders, organized the teaching staff, ran day camps, clinics, grew the Show Team to 20 members, and the Event Team to 7 members, and trained boarders horses.
Stacey's calm, systematic, goal oriented approach helps riders and horses of all levels and abilities reach their goals. Whether it is feeling the accomplishment of that first canter, being able to safely and confidently ride down a trail, or feeling the thrill of leaving the start box Stacey will help you realize and attain your goal.